2Solar officially r

ecognized as a "Great Place to Work"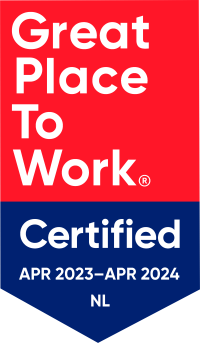 2Solar has officially been recognized as a "Great Place to Work"! At 2Solar, we prioritize the satisfaction and well-being of our employees. Our aim is to establish a workplace where our employees feel valued, secure, and can express themselves freely. Achieving the GPTW certification is a confirmation of 2Solar's commitment to creating such a workplace. 
The GPTW survey assesses how much pride, trust, and enjoyment employee perceive in their workplace. The survey consists of statements categorized under themes such as credibility, respect, fairness, pride, and camaraderie
What makes 2Solar software such a "Great Place to Work?"
At 2Solar, we work in an informal culture where honesty and sincerity are the principal. We work with short communication lines and small teams where everyone is equal, trusted, and respected. The survey indicates that management is accessible and that our employees are treated equally, regardless of their background or ethnicity. Our employees experience freedom to develop themselves in a safe working environment. We believe it is important to grant our employees the liberty to execute their work in their own way, attain expertise in their respective fields, and collaborate with a fantastic team of colleagues.  
As an organization, we value the ability of employees to voice their opinions. Feedback is an important aspect for us, as constructive feedback helps us to grow and become a stronger team. With a survey like Great Place to Work, we are able to get answers to questions such as: what is happening on the work floor? What are we doing well and what can we improve? Are there things we are uninformed of? Based on these results, we can work precisely on strengthening the work environment and work experience of our employees. 
Future
As an organization, we are proud and grateful to have achieved the GPTW certification. It is a recognition of our commitment to a positive and healthy work environment. But our journey towards continuous improvement does not stop here. We are determined to continue improving our work environment and will continue to strive to be a 'Great Place to Work' for our employees. A place where they can flourish and continue to develop. We look forward to the challenges and opportunities ahead of us on the road to an even better workplace for everyone at 2Solar.