CRM Module
CRM: Overview, insight, grip and control
Exactly what you need and can expect from 2Solar: a CRM system that works for you. More overview, speed, grip and results.
Discover more
2Solar CRM
All customer data in one place:
Work smarter and better together
Customers, projects, relations, sales: with the 2Solar CRM module all data you have all data in one system. That means optimal overview and insight, for everyone involved in the chain of your workflow. This makes collaboration very easy.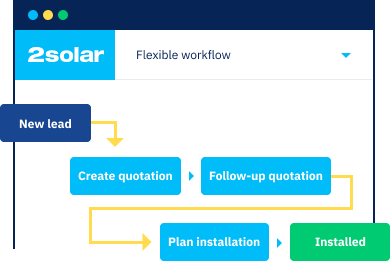 You can see the status of each phase in your sales processes at a glance. And the next steps of course. Following up on leads and quotations is suddenly very easy and fast, because you and your employees know every status, at any time.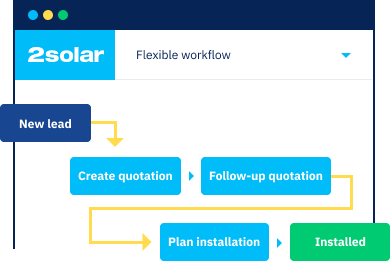 You have full control on your workflow. The 2Solar CRM module is customized, our software moves with your existing working method. This way, you work as you are used to, just smarter and faster. Folders, statuses, functionalities: remove what is not needed, add what you are missing.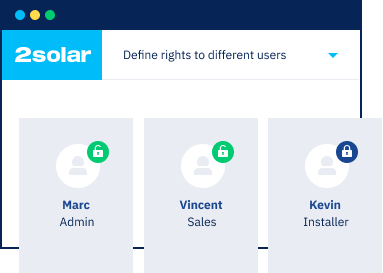 Privacy and efficiency go hand in hand with our foolproof system. You determine and divide the roles. Salesman, technician or administrator; You easily choose who is allowed to view, read and/or edit which data. Clear for everyone, safe for your data.
Your own pricelists
Price lists, product prices and tier prices, you can easily link them to the CRM. Upload and ready to use; Calculate margins and selling prices in a few clicks. With 2Solar CRM you also have a database of all available solar products. This saves a lot of time for installers, mechanics and buyers.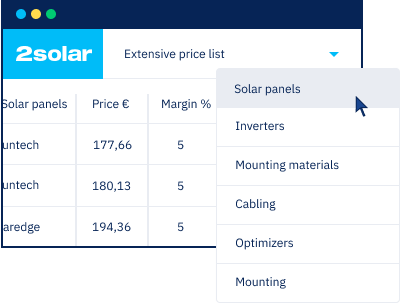 Fast service & short lines
Follow leads
All customers in one place
Every lead is valuable, you know that like no other. Therefore link your lead sources and channels to 2Solar. This way you collect all data in one place and you have a clear picture of your sales opportunities. Following up and seizing opportunities has never been easier!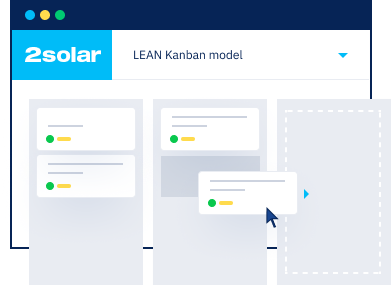 Kanban
Smart and LEAN Kanban model
2Solar software has been developed according to the Kanban model. This model is all about overview, insight and clarity. Our software visualises every phase and status of your process in practical modules and a clear dashboard. You and your team see what needs to be done, always and everywhere.
Intergrations
Link agenda
Working efficiently starts with insight and overview. And with your agenda. Therefore link Outlook 365 or Google Calendar to 2Solar – very easy. Everyone in the workflow has a view of the planning, tasks, agreements and promotions. That works!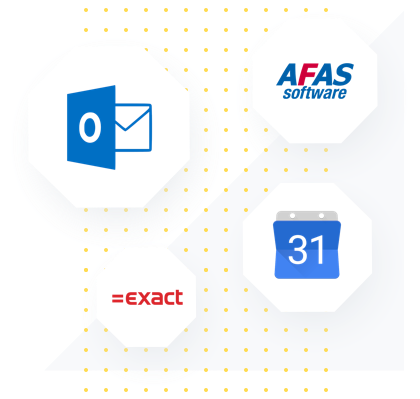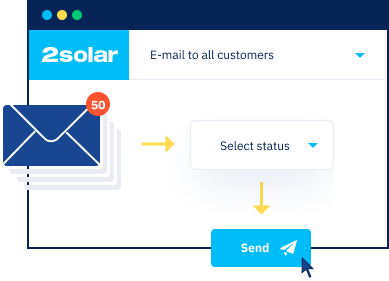 Marketing automation
Is it quiet around a lead? Do you want to activate a potential customer after a sent quote? Have 2Solar automation performed (send an e-mail) when a status remains unchanged for a long time. You create the templates yourself, so you always communicate in a way that suits you.
Location scan: always leads
A fast way from lead to customer? Choose the 2Solar Location Scan. You simply place the ready-made web form on your website, visitors fill in their postcode and house number and the new lead is immediately in your 2Solar CRM system. Your promotion? Follow up and cash in!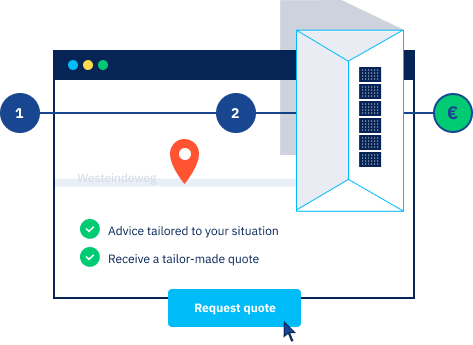 Inspection
Fill out the inspection forms once, and bind all info together, ready to be used in installation plans and quotes.
View product
Design
A must have for your solar business: design solar panels on current aerial photos and make installation plans in 3 minutes.
View products