2Solar Inspection module
Digital inspection,
For the installer of today
Forget paper, go digital. From now on, you can easily perform every inspection on your smartphone, tablet or laptop. Fill in once, all information together and at hand.
Discover more
Digital and in the cloud
Your inspection form and all data always at hand
Work faster and smarter with the 2Solar Inspection module. From inspection to delivery report, every step is digital. Your smartphone or tablet is your inspection form, so it is always close by. Wherever and whenever you inspect or consult the information.
Digital inspection form
It is completely digital. Especially when it comes to the inspection, you choose for convenience and clarity. The digital inspection form is accessible online via your tablet or mobile, is clear in where to put what information and can be fully adapted to your working method. Especially for the installer of today and tomorrow.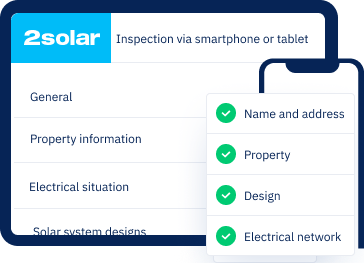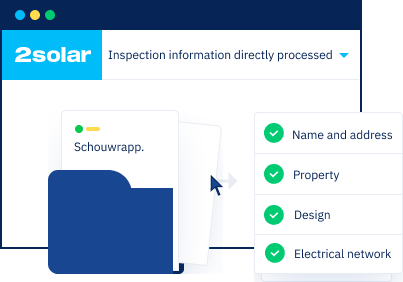 Your data directly in 2Solar
Wherever you record the digital inspection, all data can immediately be seen in 2Solar. Location data, specifications and photos, everything is available for the next step in your workflow. Collected in one place, accessible for you and your colleagues. For the sales department, for example, quotes are made in no time!
Fast service & short lines
Adjustable
Adjust to your wishes
Your method and wishes are paramount at 2Solar. The inspection forms can therefore be fully adapted to how you prefer to work most easily. We will remove information fields that you do not need. And whatever you miss, we add. That always works best!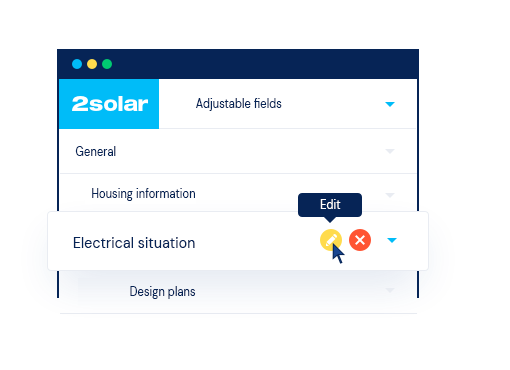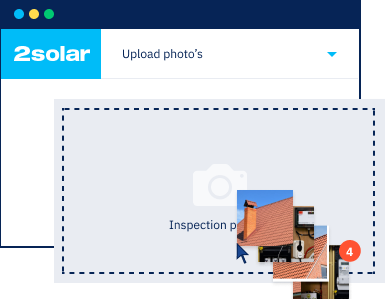 Upload all photos directly
All photos taken during the inspection are immediately put in 2Solar. Quick upload and directly added to the right customer and project. And available for all your colleagues. Saving photos on your mobile is therefore no longer necessary. This saves time and space.
For smartphone and tablet
No paper, just your tablet or smartphone. You always have it by hand. 2Solar inspection forms are compatible with almost any device. This way you actually have your office in your pocket. Practical, for you and your colleagues, because all data is immediately – and safe! – on the server.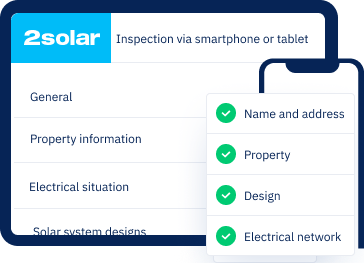 Design
The smartest subscription module: draw solar panels on current aerial photos and make laying plans in 3 minutes.
View product
Quote
Make your quotes smarter and faster with data from your installation plan, automatic calculations and clear templates.
View product