2Solar Reporting module
The right information
at the right time
Leads, statuses, statistics and management information. Choose for an optimal overview and insights at any time. This module is great advance and helps you move forward.
Discover more
Statistics and reports
Because the state of affairs is always important
Monthly, weekly or real-time. Insight into the state of affairs is always important. For managers, employees and for the future of your company. 2Solar offers statistics and reports with which you can steer and adjust. At any time.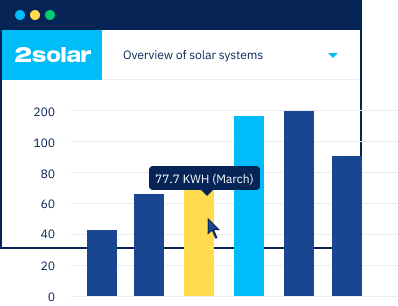 Statistics
Extensive statistics
You want to know how your business is doing. In fact, you have to know how you are doing. With the extensive statistics from the Reporting module you have grip on your business. Information from specific sources and about specific periods. Select, analyze, manage and adjust.
Fast service & short lines
Waterproof roll system
Insight per role
Who sees what. With the careful role system and rights management you capture this accurately and with just a few clicks. Easily distinguish between the rights of management, managers and employees. This way everyone sees exactly what they need. No more and no less.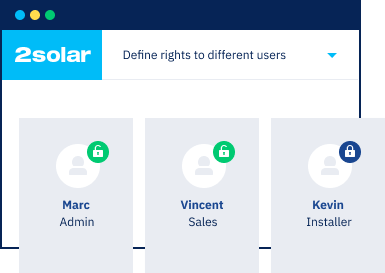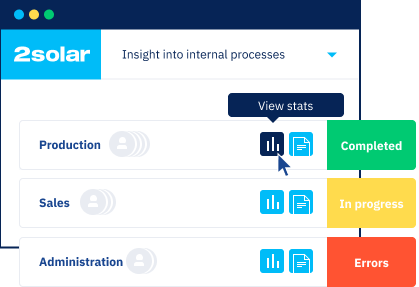 Clear workflow
Insight internal processes
Clearly visualize your workflow and work processes and gain insight into bottlenecks and insight for areas of improvement. A practical tool to make internal processes negotiable and even more efficient.
CRM & Workflow
Customers, projects, relations, sales: all data in one place. Overview, insight and control for everyone in your company.
View product
Quote
Make your quotes smarter and faster with data from your installation plan, automatic calculations and clear templates.
View product